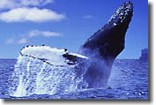 Newfoundland offers great diversity in its landscape and scenery. Your choice of one of our specially selected photo tours will encompass the best Newfoundland has to offer and the memories will last a lifetime.
Whether traversing the forested hills of St. John's or taking a full-day stroll along Newfoundland 's scenic coastline, St. John's offers an incredible array of vistas and historic sites suited for all comers. At Aurora Adventures we are proud to offer a diverse selection of photo tours aimed at pleasing your specific interests.
River Run ― Rennies River
Beginning in Pippy Park in the north-end of St. John's , your day trek will be an interpretive nature tour along one of St. John's premier walking trails. The photo tour encompasses an entire watershed from the headwaters of Rennies River to the estuary at Quidi Vidi village.
Along the way you will witness a great diversity of flora and fauna, view the Gorge and the old Swimming hole, walk along towering riverside willow trees and view the spawning beds of our abundant brown trout. Additional highlights include the Steve H erder Memorial Bridge near Herder Falls , a freshwater Fluvarium where you can actually view a river from underneath the water line before finally ending your journey at historic Quidi Vidi Village a 18 th Century style fishing village.
Historic Tour ― St. John's City
Beginning on the Signal Hill trail near the St. John's Harbour , your first highlight is a walk through the Outer Battery, an historic settlement that has been a military outpost in St. John's for hundreds of years. It has also doubling as a traditional fishing outpost for many families for many years. The history is evident everywhere as you make your way along the trail before venturing into spectacular coastline viewing and eventually up Signal Hill to famous Cabot Tower . This is a photographer's paradise with an opportunity to photo whales, icebergs, ocean-going vessels, lighthouses and more.
Coastal Tour ― Northeast Avalon
Beginning near the most easterly point in North America - Cape Spear , our full-day driving tour will take you to the many of our scenic coves and harbours that have made Newfoundland a prime tourist destination for photo enthusiasts.
Towering cliffs offer incredible ocean viewing and spectacular photo taking opportunities in a variety of weather settings. The rolling fog, wild waves and bird life are a few of the hi-lights. In addition there are whale sightings, icebergs, rocky beaches and breath-taking vistas from the shoreline cliffs. It is a comfortable tour that covers a lot of ground with plenty of opportunity to take those memorable shots.